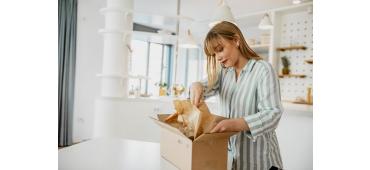 You've decided that you want to try nicotine pouches, or you're already a fan. If you're committed to buying them, you may have questions about how difficult they may be to purchase. The fact is that it's not that hard for legal adults in the U.S. to buy pouches.
Here's what you need to know about purchasing nicotine pouches, where you can find them, and what to expect when you buy.
Who can buy nicotine pouches?
Nicotine pouches do not contain tobacco and therefore aren't classified as a tobacco product. However, most sellers follow the same federal rules for tobacco products, which require you to be at least 21 years old to buy. This is the same for flavored and unflavored pouches, but flavored pouches may be unavailable in your location due to additional state or local laws.
Adults who can safely use nicotine products can buy nicotine pouches for themselves and not other people.
Can you buy nicotine pouches online?
You can find most of the popular nicotine pouch brands sold online, and Prilla is a top seller with offerings from ON!, ZYN, and Rogue in a variety of flavors, strengths, and tin sizes. You must be at least 21 years old to buy from Prilla. We use an age verification service called Agechecker to make sure that you are old enough to buy.
When you place your order, we will match the address on file for the shipment against the information in AgeChecker. You must use the address you're registered for to place your order. You cannot send an order to other addresses than your own.
Prilla sells to many states, with new states being added all the time. Keep in mind that not all states allow for the purchase of flavored pouches. Your ability to buy flavored pouches depends on state and local laws.
Prilla ships via UPS Ground, and you can always track your order. If your order arrives and you're not home, an adult will have to sign for the package for it to be left at your address.
Shopping with Prilla is safe and secure. You may pay with American Express, VISA, or MasterCard. We use SafeCharge to maintain encrypted protection for your financial information.
What's available online?
In addition to single packs, you can buy multipacks that include products from different brands. This is an affordable way to try new brands and flavors or curate your daily nicotine experience to experiment with strengths, flavors, and times of the day. If you don't like using the same type of pouch day in and day out, consider this an opportunity to sample without spending a lot of money on multipacks of the same flavor.
What retailers offer nicotine pouches?
Many retailers, including gas stations, convenience stores, and grocery stores, sell nicotine pouches. However, you will not always find the same selection as you would at an online seller dedicated to just selling these products. This includes multipacks with tins from different manufacturers.
The inventory may be limited to the more popular flavors and strengths at certain times of day, especially in areas where many shoppers come to buy their nicotine pouches at the same time. For the best variety any time of day, online sellers like Prilla provide a winning shopping experience.
Online shopping is more discreet
One other thing to consider is who may see you while you're buying your pouches. If you prefer to keep your nicotine pouch experience to yourself, buying online is the best option. Online shopping is confidential, and no one will know unless you tell them.
Where can I buy flavored nicotine pouches?
If flavored pouches are legal in your area, you can certainly buy them online. In fact, you will find a wide selection of the most popular flavors, including coffee, dragon fruit, peppermint, citrus burst, and cinnamon.
For those living in areas where you cannot buy flavored pouches, you can still find unflavored options in many strengths and brands. This allows you to mix things up without flavors, as you can change your use based on strength and brand preference.
What limitations are there to buying online?
Many people opt for online shopping because it's secure, affordable, and completely confidential. The only limitation may be that you have to be home to accept your shipment when it arrives. However, this is actually a good thing because it ensures that you receive your package and it isn't stolen or delivered to the wrong house. You can also confirm that your order arrived in good condition.
There really aren't many limitations, if any, to buying online. In fact, it's now considered the best way to get access to a wide selection and save money, too. If online ordering isn't available in your state yet, check back soon. At Prilla, we are constantly working to expand our service area.
Can I buy more than one nicotine pouch tin at a time?
Buying more than one nicotine pouch at a time is the best way to shop online. You can sample all of your favorite flavors and try new ones, too. One simple purchase ensures you are stocked up for whatever, whenever. And with bundles offering tins from different brands in one package, it's a great way to see what's new or curate your day to just your preferences.
What's the best way to save money on nicotine pouches?
While there are sometimes buy-one, get-one sales at convenience stores and retailers, these deals require you to shop from the same brand. If you like mixing up your nicotine by trying items from different brands, the best way to save is to buy online in multipacks that ship to your door.
The tins are priced low, which means you're saving money on every product—whether you buy one or ten. Prilla also offers free shipping for orders of $50 or more. This is far more affordable than driving to the store, plus it's incredibly efficient, as you're buying just what you need.
How can I try nicotine pouches affordably?
While nicotine pouch sellers won't be giving away free samples anytime soon (sorry!), you can try new varieties at a low cost by buying them online. At Prilla, our products are always priced competitively. And because you can enjoy free shipping with orders of $50 or more, consider throwing an extra tin of something new into your shopping cart before checking out. It's an affordable way to try a flavor that may become your new favorite variety.