I am sure most people are probably familiar with Lucy. They are a manufacturer of nicotine gum, and their brand is quite popular. Lately, they've begun to expand into nicotine pouches, and now have launched a new addition to their nicotine pouch range: Breakers. These aren't your average, every day nicotine pouches, either. These have a capsule inside that you break open to release more flavor and moisture! This is a neat innovation that Lucy has brought forward as an industry first!
Lucy elaborates on this by saying, "Break up with your old nicotine routine and discover the uniquely hydrating experience of Lucy Breakers. Like our Pouches, Breakers are packed with pure nicotine and flavor - but there's an extra surprise. Each Breakers pouch holds a tiny jewel-like capsule that can be broken open to release a flood of extra flavor and hydration, whenever you choose. They're a breakthrough in pouch technology, and only available from LUCY."
Today, we're going to be checking out their Mint flavor, which comes in two strengths: 4mg and 8mg.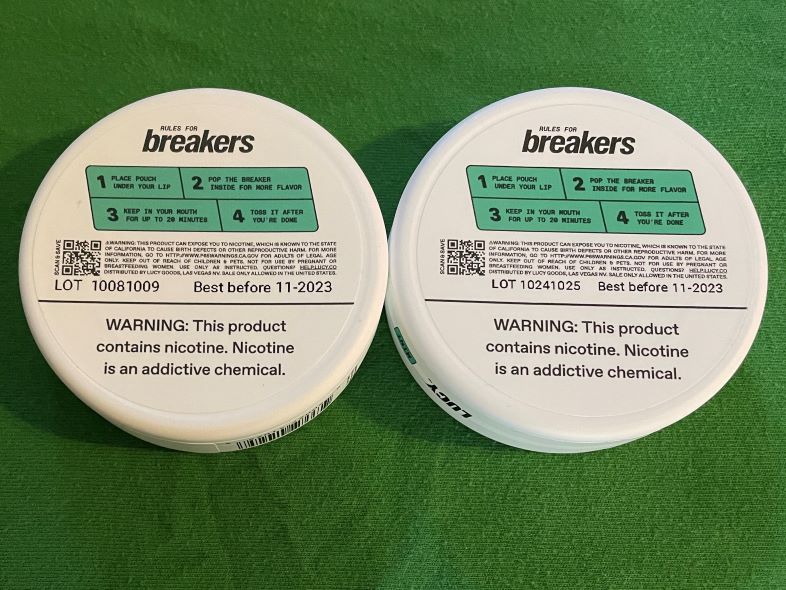 Basic info
Flavor Description: "LUCY Breakers Mint 8mg and 4mg provides an ice-cool, bold mint flavor. It also comes with an industry-first breakable capsule, which you can crush between your fingers for extra flavor and moisture on-demand."


Portion Format: Mini Dry Pouch


Portion Count: 15 pouches


Available Nicotine Strengths: 4mg/pouch and 8mg/pouch
How to use LUCY Breakers Mint:
place a pouch under your lip


pop the breaker inside for more flavor


keep in your mouth for up to 20 minutes


toss it after you're done
Of course you can keep it in as long as you want, but that is just their suggestion.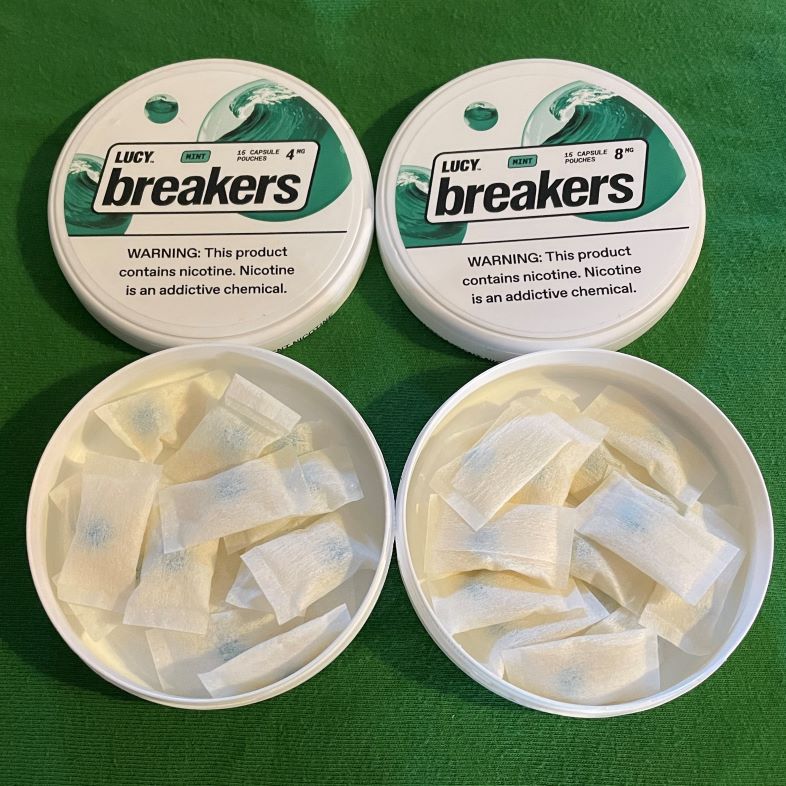 Opening the can, you'll notice the pouches are the mini, dry format. Looking at them, you can see the capsules in the pouches through the pouch material. At first, they feel dry, but once you put one in your mouth you can pop the capsule with your teeth (at least, that's what I do), and more flavor and moisture will come on. The aroma of this one is a present aroma of peppermint. It's semi-sharp, and lightly sweet in nature. The flavor comes on pretty quick under the lip once you break the capsule open. It's a pretty fresh taste of mint. It's clean, and refreshing. The peppermint is lightly sweet, and not overly sharp. Compared to other mint nicotine pouches I've had, this one certainly has a more present taste. In the strength, the 4mg one feels pretty light, that one is more for those who have lighter nicotine cravings. For me, the 8mg one is closer to what I like, and feels to deliver right at the regular strength level. I know above it says you can keep a pouch in for 20 minutes, but for me usually it's closer to 30-35 minutes in flavor longevity.
Wrap-Up & Recommendation:
Lucy Breakers are a really neat, and innovational product line. It is surprising that no one has done this until now, but, here we are! If you like nicotine pouches but want one with some extra depth to it, these certainly provide that. If you're a mint user, you'll certainly enjoy the refreshing flavor of this one.
Snubie's Opinion:
These are some wild products. For real. I didn't know what to expect with them. But, the capsule thing is super neat. You can use them without, but honestly, why would you? At first, you think it's gonna be dry, but once you hit that capsule, boom! Flavor and moisture starts to flood out of it. All in all, it's a pretty interesting product. I think anyone who uses nicotine pouches would enjoy trying Lucy Breakers.