Today we're checking out Lucy Breakers. This is an incredibly interesting new format of nicotine pouches. You're probably familiar with Lucy, they also make a popular line of nicotine gum. They've recently expanded into nicotine pouches, and have now added a new format to their world of nicotine pouches: the capsule. This is something that no one has done before, and it really adds an extra dimension to the product.
Lucy says more about this new format: "Break up with your old nicotine routine and discover the uniquely hydrating experience of Breakers. Like our Pouches, Breakers are packed with pure nicotine and flavor - but there's an extra surprise. Each Breakers pouch holds a tiny jewel-like capsule that can be broken open to release a flood of extra flavor and hydration, whenever you choose. They're a breakthrough in pouch technology, and only available from LUCY."
Today, we're going to be checking out their Mango flavor, which comes in two strengths: LUCY Breakers Mango 4mg and 8mg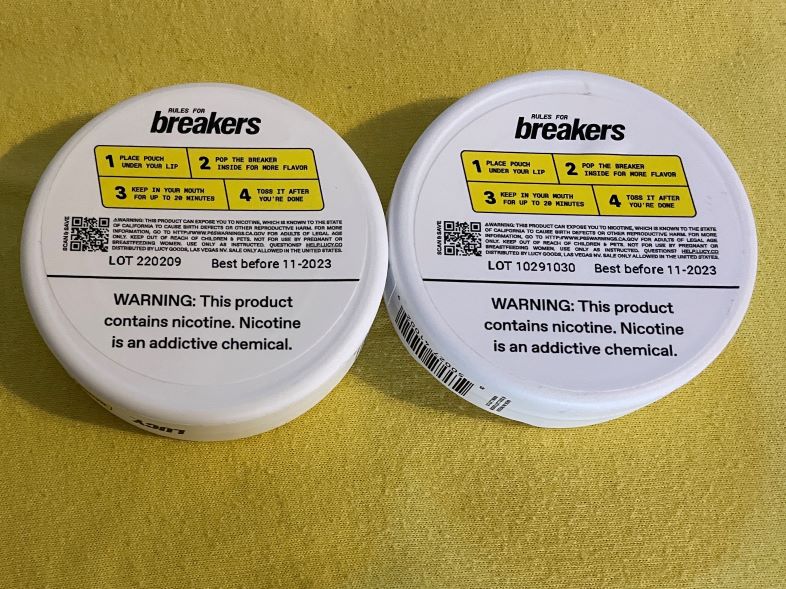 Product Specifics:
Portion Format: Mini Dry Pouch
Portion Count: 15 pouches
Available Nicotine Strengths: 4mg/pouch and 8mg/pouch
The can notes that to use these you 1) place a pouch under your lip, 2) pop the breaker inside for more flavor, 3) keep in your mouth for up to 20 minutes, 4) toss it after you're done. Of course you can keep it in as long as you want, but that is just their suggestion.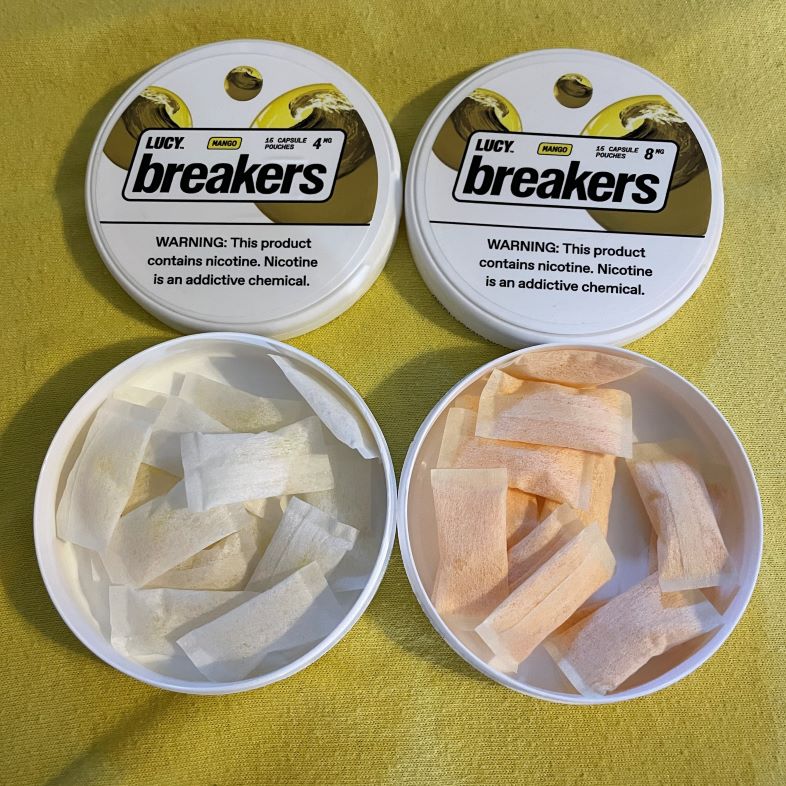 I was surprised to see the 8mg had a slightly different color than the 4mg when I opened these up. With the mint one, you can see the capsule through the pouch, but with these you can't really see it. It's there, though, and when you put a pouch under your lip it's easy to click / pop between your teeth. These have a pretty fresh, tropical aroma of mango to them. The portions are the mini dry formt, so under the lip they are a little stiff at first. But, it's interesting, once you pop the capsule it releases flavor and moisture so it starts to soften the portion up for you. The flavor on these is pretty good. I like mango, it's aa fun summer flavor. The mango comes through pretty clearly. It's natural too, and not overly sweetened, which is nice. In the strengths, the 4mg one is a lighter one. This is going to be one for those who don't have a high nicotine craving. The 8mg one is about regular, closer to what I enjoy, and has a pretty solid release and delivery of nicotine. Though it says above you can use it for 20 minutes, I find that I can enjoy these for 30-35 minutes, personally.
Wrap-Up & Recommendation:
This is a really interesting format. I wouldn't be surprised to see more products like this in the future. Nicotine pouches can seem one dimensionally at times, but this really adds a lot of depth to the format. I tried the mint one earlier today and it was pretty good as well. If you're a nicotine pouch fan, you definitely want to check these out, because they're really intriguing.
Snubie's Opinion:
I like anything mango, it's one of my favorite flavors. In the summer I use a lot of tropical stuff. But, the flavor on this one is quite good, and approachable, that I could use this anytime. I definitely suggest checking it out – it's really tasty!